Creating Through Being


HeartStart to Your Week, Monday, July 14th
5:00pm - 6:00pm PST
Free Conference Call
Conference Dial-in Number: (218) 339-4300
Participant Access Code: 188794#
---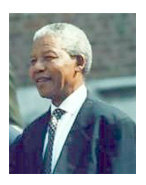 I was deeply moved this week watching a movie about Nelson Mandela and his prison guards. What struck me more than anything was the subtle shift that occurred during Nelson Mandela's imprisonment, from being locked up and thrown food and water and the occasional letter, to eventually being served food and water by his guards. Because of the dignity and integrity that Nelson Mandela held as a person, caring for his captors even when they treated him poorly (suggesting to one of them early on, "Make sure your children go to university- their education is their future…"), over time his dignity and care, his personal radiance, transformed the treatment he received and transformed the lives of the guards themselves. In a distinct shift, as their respect for him swelled, they went from seeing him as a subhuman threat, to a cherished elder, teacher, and dignitary. They moved from treating him with disdain and violence, to approaching him with reverence, gentleness and respect.

How often do we wish our family members, our friends, our colleagues or clients, our employees or employers, would treat us differently? Researchers from HeartMath have found that emotions effect heart rhythms and the electrical field that those rhythms radiate, extends more than eight feet beyond the body. The more discontent we feel with our world, the more chaos we cast into it through our hearts, which creates more sources of discontent. With simple tools we teach in our Beginner HeartMath Webinar, all of us can reverse the negative effects of this chaotic and even violent discontent within ourselves and our world. There is a distinct possibility for all of us, not just saints and heroes like Nelson Mandela, to learn how to transform our world and our relationships from the inside out.

The key to creating this new world comes from who we are being: our inner character. I worked on my character for years- I even remember being 6 years old on the playground of my first grade classroom, when a classmate yelled, "You're too bossy Sheva!" Devastated, I set about to change my personality before I had even traded my baby teeth in for the grown up versions! But it didn't work. Trying to become less bossy that way, I turned into a bear bossing myself around in a violent, self judging and self rejecting mess. It was only once I learned to access the power of my heart that I found the transformation in my character that all my years of self judgment and rejection only aimed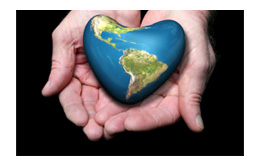 at but never actualized. Order within my heart revealed to me the dignified, caring leader behind my bossy exterior. Order within our own hearts comes from being caring, being dignified, and our being then radiates that order into our own lives, our families, our communities, our world. You can even see the transformation real time in your heart rhythm with a technology called the emWave! Rather than remaining a conceptual ideal at a distance, reserved for the Gandhi and Mandela and Mother Theresas of the world, our dignity and greatness can be truly actualized through the power, intelligence, and potential of our own coherent and loving (even self loving!) hearts.

Many of us are filled with excuses for our lack of pro-action in the face of personal or global chaos. Not enough money, not enough time, not enough energy, not enough you-fill-in-the blank. But people like this young Nicaraguan man on You Tube who has no arms but has taught himself to become a guitar Maestro with his feet (!), or Nelson Mandela who transformed an entire country from a jail cell with no resources save for his own heart of dignity and commitment to principles he was willing to give his life for, reveal to us that we need nothing save for the pulse at the center of our chest and its loving, powerful intelligence, to transform our lives and create miracles in the world. It is not what we have that empowers us to create and receive wonder and magnificence and greatness, but who we choose to be: our character. In my own life, the heart has been the focal point of waking up and empowering my ability to choose who I am being, so that what I am creating and receiving emanates the peace and passion and potential I know as the real me.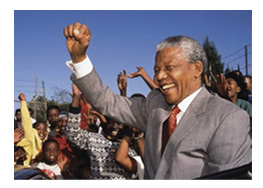 The movie about Nelson Mandela's imprisonment is called "The Color of Freedom," and includes powerful documentaries with interviews.

"There is no such thing as an inhumane human- only inhumane systems. We are fighting a system, not human beings."

One of the things everyone who spoke about Nelson Mandela in the interviews shared was his powerful ability to listen to everyone, no matter their race, economic status, or level of social importance. Listening from the heart is an essential part of a fulfilling life. In our Beginner Webinar, we teach a tool called coherent listening.
Here is what some of our students have experienced from applying this tool:

"Sheva: The techniques you taught me helped tremendously in my divorce mediation sessions. I was able to get to neutral before each session which allowed me to use Coherent listening as often as I could remember. I've already had two sessions since we last spoke and we were able to work out all the major issues. Now it is just a matter of putting everything down on paper and working with the lawyers to get it through the legal system. Thanks so much!"

- Kathy H., Corporate Executive, New Jersey
"I did a quick coherence last night on my usual "why do I get so incoherent about misperceiving not being understood" - i was frustrated with my parents for not understanding me in regards to their understanding of the latest supreme court decision on the right to bear arms. In my quick coherence, I was self-guided to remind myself that no one can hear me when I get incoherent like that. More importantly, I can not hear MYSELF when I have that choked up feeling and queasy stomach feeling. Had I just listened to myself I would have been able to hear what my parents were communicating to me so I could respond in a more appropriate/effective way. I am so grateful to these tools for bringing me and my parents closer together and helping me to communicate what I really want to!


- N. Cooke, Law student
This Thursday July 18th is Nelson Mandela's 90th birthday. In his honor, I dedicate this HeartStart call to the human dignity at the heart of us all, and its potential to bring miracles into the world. Please join us in celebration.
Did you receive this after the call already happened?
Not a problem, listen to the recorded version until July 21st, 2008.

Free Conference Play Back
Playback Number: (641) 715-3440
Access Code: 188794#

To listen to previous Heart Start calls go to www.fyera.com/heartstart.html

For more information about our four evening HeartMath class series e-mail [email protected]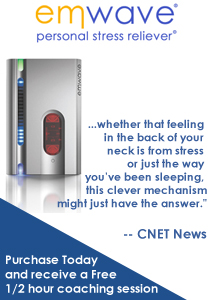 Fyera! Beginner HeartMath Workshop
For people who are either looking to get the edge in their performance, struggling with all different types of stressors, or have loved ones who are, can benefit from the Fyera! Beginner HeartMath Workshop.
In the Beginner HeartMath Workshop taught at Fyera! you will
Learn the science and physiology behind feeling good.
Learn the science and physiology of what gets in the way of feeling good: ie stress.
Learn how to feel better more often by transforming stress, and receive ways to help those you love do the same.
Sign Up Now!

Receive a biofeedback technology called an emWave® Personal Stress Reliever™ that actually shows you your heart rhythms in real time.

Learn a proven way to neutralize stress, on the spot, engaging with life (no yoga mats, special diets, expensive vacation cruises, herbs or vitamins, twisting yourself into a pretzel or locking yourself in a meditation hall needed).
A proven way to lower stress hormone levels and increase rejuvenation anti-aging hormone levels.
Sign Up Now!

Learn 5 simple processes that you can use anywhere anytime to access the wisdom of your heart to maneuver through challenges and generate a life of true joy and vitality.
Whether you or someone you love has a health concern they want answers for, or is seeking relief from anxiety and depression, this workshop is a place where you can hear the how-to of how to start- with the power of the heart.
To register for a Fyera! Class:
Call (626) 844-7171email: [email protected]
Gift certificates, scholarship donations and scholarships also available
Fyera is offering a year long HeartMastery Program.

A great deal only $6/hour of class time. Click here to learn more.