The Heart Gets to, the Mind Has to


HeartStart to Your Week, Monday, June 9th
5:00pm - 6:00pm PST
Free Conference Call
Conference Dial-in Number: (605) 990-0700
Participant Access Code: 992522#
---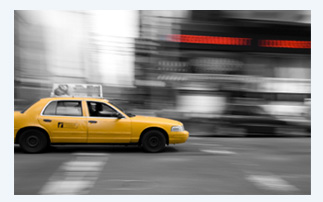 I recently had an extraordinary cab ride. It was extraordinary in the true sense of that word- meaning, it would have been just an average, ordinary cab ride. But something happened inside me that uncovered the extra within the ordinary.

It was one of those mornings I woke up with the usual litany of laments. "If I lived with family, they would drive me to the airport and I would not have to take a cab. I am so lonely…" "If I had more money, I could park my car at the airport instead of having to take a cab...I am tired of living like a college student…" "If I didn't have to work this morning before my flight…if I lived in a nicer part of town…if I had gotten out of the house ten minutes earlier…"

The last one really got me as we hit school traffic, and the cab was stopped by the well-worn red and white "stop" sign held at high attention by the crossing guard while an infinite stream of children passed in front of us. I eyed the clock, calculating exactly which red lights we would not be able to hit if I was going to get to work in time in the face of this delay. The clock ticked on, the meter kept counting, more and more kids crossed. I felt myself lean forward in the front seat of the cab, as if somehow my weight slouching toward the windshield would move us through the children faster. What was the cabby going to do? Run them over for me? It was then that I caught the absurdity going on in my own mind. And I stopped. For real. Thank you crossing guard.

Her battered cardboard "stop" sign was a reminder to stop the mind chatter and go to the heart. As I did, I slid back in my chair and thought, "Why don't I just enjoy the sunshine streaming through the window, and the giggles of the children, and be here now in this moment?"

The minute I did that, I became aware of the man sitting next to me. Seconds earlier, he had been the cab driver taking me to work. Someone worth a two dollar tip and not a second thought. Suddenly, present in the moment, I recognized him as a radiant spirit of effervescent, quiet joy. It was impossible now to ignore the peace of being in his presence. How had I missed it before?

Feeling my attention shift to the here and now, he began a harmless conversation about the weather. "It's warm."

"Yes," I observed with him. "Unusual for so early in the day."

"Not really." His answer caught me off guard- not so much what he said, but how he was saying it. "Lately it has been warming up at 5:00am." He said this matter of fact, not correcting me, not making a big deal about himself, more like chuckling at the wonder of how the sun, when it rises, heats things up. Like a five year old watching seeds sprout, and looking up with big eyes and a grin that says, "Isn't that cool?"

"What are you doing up at 5:00am?" I asked him, intrigued and with a sense of unearthing buried treasure.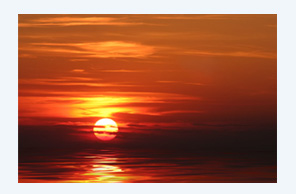 "Oh, well, I work as a security guard from 10:00pm to 5:00am, and then drive my cab from 5:00am to 6:00pm. So I get to see the sun rise. It's nice. It starts getting warm while I drive."

My jaw dropped. "When do you sleep?" I thought about how I had been upset with myself that I stayed up an hour later than I had wanted to the night before. Meanwhile, this guy had just been starting work!

He smiled back as if he was describing a vacation at Club Med- "I get to go home at 6:00 in the evening and make myself dinner- I love cooking. I love rice. It's my favorite thing to cook. Then I get to sleep for a couple of hours before I have to go back to work. And sometimes," (now he prefaced this part like he was about to let me in on the cherry topping for a double decker fudge sundae), "there is an hour or two between cab rides, and then I get to sleep in the back seat of my cab."

"He GET's to??" I humbly watched my "have to's" wash by with the flood of children chattering on their way to school. Mine is not a poker face. The look of shock must have been obvious. Because he pulled up another bucket of words from the well of his simple wisdom to wash any worry or pity off my face- "It's really a good life for me, and it doesn't matter because I live alone, so no one is waiting for me at home or anything." His noble attempt to make me feel better about his situation caved in on itself as my own entitlement and self pity showered off in the presence of his humility and care.

Instead of feeling lonely for himself, he was thankful for his "non-family" that they did not have to put up with his schedule! With friends and family waiting for me on both sides of my airport departures and arrivals, I was humbled to silence. With a job that afforded me 8 hours of sleep every night if I choose to take it, I choked on my choo choo train of prior pity pondering. What was I thinking? I was flooded with gratitude, compassion, even embarrassment at my own sense of "entitled to be living a Leave it to Beaver life" attitude.

I am sure he could see concern in my face for his lonely lifestyle. So, again motivated to speak in order to put me more at ease, he shared more of his story. "Well, I actually have a wife and five children. But they live in Jordan. And I want all of my children to go to University. There was not a high enough paying job in Jordan for me to send them to school, so I managed to get work like this here for 9 months out of the year, and I get to-" (there was that "get to" phrase again)- "spend three months with them. So far two of my children are already in university, and the third is graduating and accepted into university this year!" he smiled at me a proud and toothless grin, with a joy that you would expect from someone who is about to collect the Noble Peace Prize or an Oscar for best picture. This man had definitely taken his life circumstances and directed the best movie I could imagine with them.

Everywhere I turn lately, I am awed by the depth of heart people are able to attain in the face of life's challenges, when they let go of a sense of entitlement as to how things "should be." People like Immaculee Ilibigazia who wrote "Left to Tell," (a MUST read) about her time of forgiveness and prayer hiding in a Rwandan bathroom for three months during a genocide in which nearly every member of her family was murdered. These are the people that live with the words "I get to…" rather than "What do I get if I do?"

A teacher once said to me that feeling entitled to something robs you of the power to create it. What do you take for granted, or feel entitled to? Clean water? More than 99% of the world's population does not have access to clean water. Reading these words? The vast majority of human beings on our planet are illiterate. Can we really take anything for granted?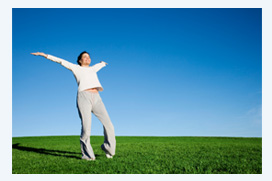 People ask me all the time if learning HeartMath will help them get more of what they want. Right now, my own heart keeps waking me up to seeing more of what I already have, right here, right now.

The next time you catch yourself saying, "I have to…" see what happens to your heart when you say, "I get to…" It makes the ride- wherever you are going- a lot more fun!

Tune into tonight's HeartStart call to find out more about the power of the heart to appreciate what's right here and now.
Did you receive this after the call already happened?
Not a problem, listen to the recorded version until June 16th, 2008.

Free Conference Play Back
Playback Number: (641) 985-5108
Access Code: 992522#

To listen to previous Heart Start calls go to www.fyera.com/heartstart.html

For more information about our four evening HeartMath class series e-mail register@fyera.com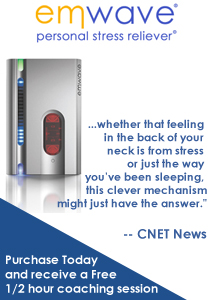 Fyera! Beginner HeartMath Workshop
For people who are either looking to get the edge in their performance, struggling with all different types of stressors, or have loved ones who are, can benefit from the Fyera! Beginner HeartMath Workshop.
In the Beginner HeartMath Workshop taught at Fyera! you will
Learn the science and physiology behind feeling good.
Learn the science and physiology of what gets in the way of feeling good: ie stress.
Learn how to feel better more often by transforming stress, and receive ways to help those you love do the same.
Sign Up Now!

Receive a biofeedback technology called an emWave® Personal Stress Reliever™ that actually shows you your heart rhythms in real time.

Learn a proven way to neutralize stress, on the spot, engaging with life (no yoga mats, special diets, expensive vacation cruises, herbs or vitamins, twisting yourself into a pretzel or locking yourself in a meditation hall needed).
A proven way to lower stress hormone levels and increase rejuvenation anti-aging hormone levels.
Sign Up Now!
Plug energy drains and learn to recharge energy anywhere anytime.
Learn to use the "more of your brain" that most people do not access.
Learn 5 simple processes that you can use anywhere anytime to access the wisdom of your heart to maneuver through challenges and generate a life of true joy and vitality.
Whether you or someone you love has a health concern they want answers for, or is seeking relief from anxiety and depression, this workshop is a place where you can hear the how-to of how to start- with the power of the heart.
To register for a Fyera! Class:
Call (626) 844-7171email: register@fyera.com
Gift certificates, scholarship donations and scholarships also available
Fyera is offering a year long HeartMastery Program.

A great deal only $6/hour of class time. Click here to learn more.