The Heart Makes Life Transitions Easier

HeartStart to Your Week, Monday, April 28th
5:00pm - 6:00pm PST
Free Conference Call
Conference Dial-in Number: (605) 990-0700
Participant Access Code: 992522#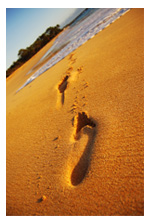 We become very identified with our external roles in life (like a career title or being a parent or a spouse), and so it can be enormously stressful when we lose our identities due to life changes. Career transitions, divorce, empty nest syndrome, retirement, or in Brett's case, described below, a physical challenge that calls us to let go of an activity that has defined us, can be some of the most stressful experiences we go through. The stress does not come from the changes. The stress comes from having over-identifying with any one role we play. To the mind which has held onto a role as who we are, the loss of that role can feel like an emotional death.

The good news is this: over identifying with roles can actually confine the expression of who we are at heart. The opportunity big life transitions present us with is to come deeper into the freedom of who we really are. With tools to access the heart's presence, peace, intelligence, and adaptability to change (tools which we teach in the Beginner HeartMath Webinar) major life transitions like the one Brett describes below can become portals to freedom rather than passages of loss. Letting go of roles and identities can allow our attention to be more fully present in the moment, to partake of new gifts we have to give and to receive. Tune into to tonight's HeartStart call to welcome back (by popular demand!) Brett Askenas, as he shares the powerful gifts his Multiple Sclerosis has provided (even having to give up his profession!) when he takes the experience on through the eyes of his heart.
Brett's Story: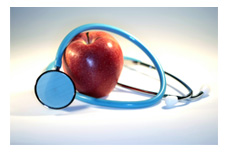 I grew up in West Nyack, NY, a Rockwellian suburb about 20 miles north of NY City. It was open and green and quiet and relatively idyllic. There wasn't much trouble to get into and the public school system was excellent. It was a terrific environment in which to grow up. I went to school and played whatever sport was in season and generally thrived both academically and athletically. All I had to worry about was doing well in school and having fun - my parents saw to that. Growing up in a Jewish household, the only real question asked of me was whether I was going to be a doctor or a lawyer. My father was a chiropractor, so the expectations were certainly there to be involved in some form of healthcare, but that was largely unspoken. I just knew that whatever I did, I was going to be good at it.

From very early in our lives we assume identities depending on our given circumstances. We come into the world as infants and play the role of recipient. We get food and love from our parents, who play their roles by providing whatever we need - all we need to do is scream or cry and have them figure it out. Hopefully sooner than later to keep everyone's sanity intact.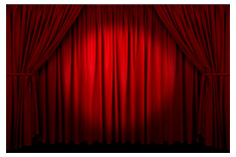 As we age, we play the roles of son or daughter, student, friend, grandchild, teammate, etc. Sometimes the identities become more specific, like good student, bad baseball player, difficult child. Our behaviors are either reinforced or discouraged and amended. By the time we reach adulthood, we have a very clear idea what we think of ourselves in any given situation and how to fulfill that role. Society helps us as well in this regard. The phrase "all the world's a stage" couldn't be more accurate, as we are all essentially actors in the big theatrical production called "life". We play the characters that suit us or that we're expected to play and rarely depart from the script. We are also different things to different people, so we really do wear many hats. For instance, I can't imagine cussing in front of my mother any more than I could see myself giving one of my golfing buddies a big hug and a kiss as a greeting. We play the roles that are expected of us and more stringently, that we expect of ourselves. I submit that it can be quite confining and cut us off from the heart of who we really are

I started working part-time at age 14, first as a Little League umpire, then as a town recreation basketball referee and clinic instructor, and then as a lifeguard for several summers. I loved all of the jobs that I had and wore all of the hats proudly. I especially loved being a lifeguard - it was great for my ego, I got to work on my tan all day and most importantly, do a job that I considered important - guarding lives.

My next "job" was to do well enough in college to get into the dental school of my choice, as I had chosen dentistry as my career path. Once in dental school, my job was to succeed sufficiently, so as to allow me to specialize in a particular aspect of dentistry. I chose periodontics, which concerns all of the supporting structures of the teeth, or for all practical purposes, "gum surgery". I was very pleased to specialize in periodontics. It met my personal criteria for what I wanted to do with my life. I wanted to help people improve their health, and do it in a niche where I could really excel and exercise my perfectionistic tendencies and make a nice living. I also wanted a relatively "normal life", meaning being involved in a surgical specialty where emergencies occurred far less frequently than 24/7. Being a surgeon also satisfied my ego. I felt important because I could really help people like few others could and it would be appreciated by the general public. I would be held in esteem much to my great pleasure. It suited me perfectly and I was very proud of myself. It was quite an accomplishment. I had reached my personal mountaintop. Hooray for me!!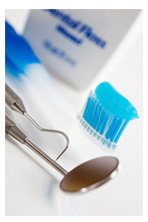 I enjoyed practicing immensely. I got to work with many wonderful staff members and patients and see some fabulous results of the care we delivered. My goal was to make the patients as comfortable as possible, since very few of them actually wanted to be at the periodontist's office, so I told them stories and jokes and answered all of their questions in easy to understand terms. A good time was had by one and all. It was both rewarding and exhilarating.

I practiced periodically for a few years before having physical symptoms, which came and went, later to be diagnosed as Multiple Sclerosis. Fortunately, my symptoms of numbness and tightness in my legs and fatigue, never really interfered with my ability to deliver quality dental care over my 17 years in practice. Then I realized that I needed to stop working in order to take care of my own health and did so about 1 1/2 years ago. I had been embarrassed about walking with a limp and essentially hid my diagnosis from everyone, since it wasn't effecting my work, and since I was a responsible individual, I would intuitively know when to stop.

I could not bear the idea of doing a patient harm, so I stepped away before it ever got close to that point. I knew what I had to do, so apprehensively and with some sadness I called the 40-45 different dentists that I worked with closely, since almost all of my business was referral, and told them the deal. I had 20-60 minute conversations with every one of them over a 10 day period. Soon the sadness transformed into exhilaration. Rather than lose my identity, and discovered more of who I really was. I was awestruck by the outpouring of love and support that I received from every one of these people. They were far more than colleagues, they were great friends. Over the next few weeks, patients and other colleagues came out of the woodwork to offer support. I experienced a paradigm shift at that point. I no longer needed the ego boost of being a respected periodontist. I received the wonderful gift of being appreciated just for being who I was by people I held in such high regard. So i said to myself, "Self, if these people value you for just being you and don't think less of you because you are no longer a practicing periodontist, then there's no reason that you can't feel the same way about yourself." I was overcome with emotion and had never felt freer. I could be anything I wanted to be and do anything I wanted to do, as long as I was true to who I really was. Wow, what a moment that was for me. The weight of the world was lifted from my shoulders, or so it seemed.

Now, I view myself in very simplistic terms. I can be whoever I want to be, but now rather than try to be the best me I can be I simply "be". That's it. The expectations are gone. I find that I am more present now that I don't worry as much about keeping up appearances. If there's something I don't want to do, I check with my intuition and I just don't do it. I honor how I feel and don't push myself.

Life is a journey and I am enjoying the "detour" I have taken and will continue to do so, as I learn new things and meet new people.
Testimonials:
"I am living from my heart more than I ever have, and life is so much easier. The challenges are actually do-able now. I attribute a lot of this change to your calls and the emwave and of course practice...Thank you Fyera!"

-Kristin, NC




"The trouble with being in the public eye as a person known for inspiring and empowering others is, where do you go when you need inspiration and advice? Sheva taught me how to access the wisdom of my own heart for that. When you've graduated from personal growth training and want to find the real power in yourself, go to Sheva. She was there through the most difficult relationship challenge of my life, guiding me to a place of self respect where I am now receiving the love I truly deserve. She is without a doubt a leader to leaders, a coach to coaches, and an inspiration to all! I am so grateful to have met you Sheva, and to continue to work with you and to watch you magic unfold in the world!" Bonnie St. John


Bonnie St. John Olympic Medalist, Author, Speaker Named by NBC as one of the five most inspiring women in the nation
Did you receive this after the call already happened?
Not a problem, listen to the recorded version until May 5th, 2008.

Free Conference Play Back
Playback Number: (641) 985-5108
Access Code: 992522#

To listen to previous Heart Start calls go to www.fyera.com/heartstart.html

For more information about our four evening HeartMath class series e-mail [email protected]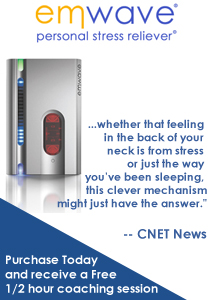 Fyera! Beginner HeartMath Workshop
People who are either looking to get the edge in their performance, struggling with all different types of stressors, or have loved ones who are, can benefit from the Fyera! Beginner HeartMath Workshop.
In the Beginner HeartMath Workshop taught at Fyera! you will
Learn the science and physiology behind feeling good.
Learn the science and physiology of what gets in the way of feeling good: ie stress.
Learn how to feel better more often by transforming stress, and receive ways to help those you love do the same.
Sign Up Now!

Receive a biofeedback technology called an emWave® Personal Stress Reliever™ that actually shows you your heart rhythms in real time.

Learn a proven way to neutralize stress, on the spot, engaging with life (no yoga mats, special diets, expensive vacation cruises, herbs or vitamins, twisting yourself into a pretzel or locking yourself in a meditation hall needed).
A proven way to lower stress hormone levels and increase rejuvenation anti-aging hormone levels.
Sign Up Now!

You will learn a field tested way to transform stressful situations
Gain the power to resolve miscommunication, personality conflicts, and relationship stress.
Learn why most stress management techniques fail, and what to do about it.
Learn the difference between relaxation and true stress relief, resetting the baseline of your nervous system to stop hidden stress from stealing away your health, vitality and performance.
Reduce your reactivity and fatigue, leaving you more centered, peaceful, and full of energy at the same time.

Sign Up Now!
Plug energy drains and learn to recharge energy anywhere anytime.
Learn to use the "more of your brain" that most people do not access.
Learn 5 simple processes that you can use anywhere anytime to access the wisdom of your heart to maneuver through challenges and generate a life of true joy and vitality.
People who are either looking to get the edge in their performance, struggling with all different types of stressors, or have loved ones who are, can benefit from the Fyera! Beginner HeartMath Workshop including those with:
anxiety and depression
health challenges
pain
relationship problems
money issues
eating disorders
career transitions
addictions
obesity
time pressure
performance pressure (for athletes, executives, entertainers, students/testing)
soldiers about to be deployed or with post traumatic stress
Whether you or someone you love has a health concern they want answers for, or is seeking relief from anxiety and depression, this workshop is a place where you can hear the how-to of how to start- with the power of the heart.
To register for a Fyera! Class:
Call (626) 844-7171email: [email protected]
Gift certificates, scholarship donations and scholarships also available
Fyera is offering a year long HeartMastery Program.

A great deal only $6/hour of class time. Click here to learn more.