The Music of Your Heart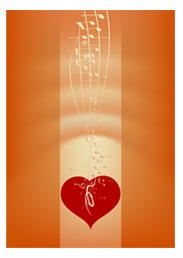 HeartStart to Your Week, Monday, March 31st
Free Conference Call
Conference Dial-in Number: (605) 990-0700
Participant Access Code: 992522#
Have you ever noticed how great people feel listening to their favorite music? One of my favorite things to do is turn my car radio up full volume, roll down the windows, and drive to my favorite tunes up the coast. Billions and billions of dollars are exchanged every year for sounds strung together to form melodies and memories. Nearly every religion and church service in the world has some form of music associated with it. And our rock stars are venerated like modern day saints. Why is music so important to us?

When I first began teaching HeartMath, I attracted a lot of rock bands that were curious. Now, if you had known me growing up that would strike you as pretty funny. I was the uptight straight A ballet dancer who always wore her hair in a bun and hated rock music (so much so that I still kind of cringe when I write that like, "Is that how you say it?"). It was quite a shift for me to, literally, let my hair run wild and hang out back stage at the Hollywood Bowl as the official "Heart Consultant" to bands that ranged all the way from Courtenay Love's "Hole" to Earth Wind and Fire, or the Bare Naked Ladies and staff at Madonna's Maverick. I worked with musicians from Macy Gray's touring company, and some who played with Carlos Santana. And I worked with classical musicians as well. The word got out about me as a resource for stress management, and for how to increase your charisma and magnetism as a celeb with the power of your heart.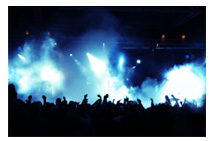 That was the surface reason I would get a call from the personal assistants to these sax and keyboard and guitar greats. But the truth? Aside from their desire to be more creative or get their bands more in synch on the road, I think there was a quiet longing in every musician I worked with to understand what it was that they did that created so much stir and magic for their audience. They were living inside their own mystery, and understanding the power and potential of the heart liberated knowledge that helped to explain what it was they were doing that had led to such massive success.

Research from HeartMath has shown us that positive emotional states like peace, forgiveness, exhilaration, compassion, care, and joy, create a uniquely ordered signature in the heart rhythm that causes all the rest of our body systems to fall in to harmony. Stress is when the heartbeat, and the systems looking to it as the conductor of their orchestrations become disordered and chaotic. Anything that facilitates order in the heart- like listening to rhythmic music- can help to generate positive feeling states and harmony between people. Bringing rhythmic order to a person, or a group of people, causes changes in the brain that lead people to function with greater intelligence and care for themselves and others. And besides, it just feels plain great! When you put a whole group of people together to the tune of the same music, whether they are slam dancing or singing Medieval madrigals, they entrain.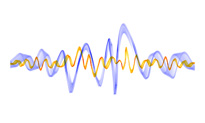 They synch up to a common rhythm, and their hearts beat as one. Community, belonging, and value can appear in people's experience where they previously felt separate and alone. By creating coherence in the heartbeat, which leads to system wide order and harmony in groups, music has the potential to benefit our health, our brain function, our perspective, our culture, our world.

Imagine being a musician with millions of followers, and fumbling onto that piece of science that proves the value of what you can potentially offer? Now imagine being a musician who holds that golden potential in your awareness while creating music expressly for the purpose of that benefit?

In our Beginner HeartMath webinar, we give people tools to create order in the heart rhythms and to receive all the benefits that can bring to their health, their relationships, and their contribution in the workplace and the world. We also provide every attendee with music that was specifically designed by the creator of HeartMath to facilitate that ordered and harmonious state we call coherence, or "Fyera!"

On tonight's HeartStart call we will interview Mark Romero, (whose story is below), about his journey into the discovery of the value of music and the internal harmony it can generate for his clients.

One thing that I would like to point out about both Mark's story as well as my own, is that following the music of our hearts took us down roads least expected. I never expected in my uptight ballet bun years to find fulfillment hanging out with rock stars (!). And Mark never expected, in his lavish corporate success, to find wild adventure and medicine in his music. There is literally an intelligence newly discovered in the center of your chest that operates like a GPS, which can guide you directly into the fruition of your fulfillment and maximum potential if you learn to listen to and follow its signals (which we teach you how to do in our Beginner HeartMath Webinar). When you learn to "follow the music of your heart," a wild and wonderful adventure awaits.

Read Mark's own story below, or tune into to tonight's HeartStart call to hear more!
Mark's Story:

I never thought that I would be a sound healer and life advancer. Today I find myself doing transformational musical work I call Harmonic Alignment.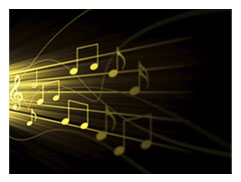 Through this process and the music I am helping people realize their inner essence and break through their life to a whole new level of experience! Through the power of the music people are able to create truly meaningful, passionate and fulfilling lives. I look back and realize that all I have ever wanted to do was help people on their journey through life. Everything I have done has prepared me for this role. I am truly blessed and thankful that I had the courage to listen to my heart. By doing so, I am fulfilling a wonderful role in the world and living my life in ways I never could have imagined.

Six years ago my heart led me to make the most difficult decision of my life. After nineteen years in the semiconductor business, I realized that I was not enjoying what I was doing. In fact, I was extremely discontent and unfulfilled! I had achieved great success by society's standards. I made great money; I had the beautiful home, shiny car and the huge stock portfolio. Even with all of the things and financial reward, I was terribly unhappy!

I was distraught! After all, I had played the game the way society said I should play the game. I got a job, worked my way up the corporate ladder, flourished in sales, managed extremely successful teams and even started my own business. I took a company from the garage to $15M a year in sales in just five years. Still I was unfulfilled!

It all hit a bursting point one night when I got home late from work and found my wife waiting for me in the hallway. I knew she was going to hit me with a piece of the truth that I did not want to hear. Sure enough, she did. She said, "I don't give a damn how much money you are making, I look in your eyes and you are dead! When are you going to have the courage to pursue your dream?"

As much as I wanted to argue, she was right. I did indeed have the millionaire mind! Unfortunately, I also had the five dollar physical health and worse yet, a five cent spirit! I took the ultimate leap of faith and walked away from what I could do with my eyes closed and one arm tied behind my back. I had no choice if I was going to save my life and step into my life's purpose. (Check out our HeartBlueprints course, on living your unique life purpose!)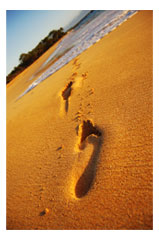 What occurred over the next six years could only happen on the hero's journey. I embarked on a journey to discovering my role in the universe but also learning how to truly live the harmonized life. Out of this process came an awakening and the realization of gifts that I would have never seen if I hadn't walked away from my corporate life.

Music has always played a role in my life. For twenty-eight years I have been playing the guitar with passion and enthusiasm. Around three years ago I got connected with a former top-consultant from NASA that had been looking for music that could harmonize the body, mind and spirit in listeners. After a series of tests and studies they discovered frequencies in my music that could transform people's lives and help them to achieve higher states of wellness, consciousness and spiritual connection. He explained that I was the first guitarist they had found that had these frequencies and that my music was a wonderful gift to humanity. I am truly blessed and thankful that I had the courage to listen to my heart. By doing so, I am fulfilling a wonderful role in the world and living my life in ways I never could have imagined.
Testimonials:
"Fyera! ended my inner pollution!"

- C. B. Publicist, L.A.




"If you've tried everything, Fyera! is not one more thing. It is THE thing that will make everything else you've tried work."


- G.G. Filmmaker and Writer, Los Angeles
Did you receive this after the call already happened?
Not a problem, listen to the recorded version until April 7th, 2008.

Free Conference Play Back
Playback Number: (641) 985-5108
Access Code: 992522#

To listen to previous Heart Start calls go to www.fyera.com/heartstart.html

For more information about our four evening HeartMath class series e-mail register@fyera.com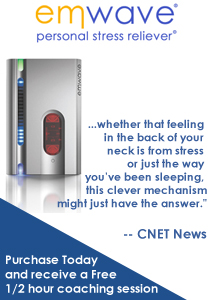 Fyera! Beginner HeartMath Workshop
People who are either looking to get the edge in their performance, struggling with all different types of stressors, or have loved ones who are, can benefit from the Fyera! Beginner HeartMath Workshop.
In the Beginner HeartMath Workshop taught at Fyera! you will
Learn the science and physiology behind feeling good.
Learn the science and physiology of what gets in the way of feeling good: ie stress.
Learn how to feel better more often by transforming stress, and receive ways to help those you love do the same.
Sign Up Now!

Receive a biofeedback technology called an emWave® Personal Stress Reliever™ that actually shows you your heart rhythms in real time.

Learn a proven way to neutralize stress, on the spot, engaging with life (no yoga mats, special diets, expensive vacation cruises, herbs or vitamins, twisting yourself into a pretzel or locking yourself in a meditation hall needed).
A proven way to lower stress hormone levels and increase rejuvenation anti-aging hormone levels.
Sign Up Now!

You will learn a field tested way to transform stressful situations
Gain the power to resolve miscommunication, personality conflicts, and relationship stress.
Learn why most stress management techniques fail, and what to do about it.
Learn the difference between relaxation and true stress relief, resetting the baseline of your nervous system to stop hidden stress from stealing away your health, vitality and performance.
Reduce your reactivity and fatigue, leaving you more centered, peaceful, and full of energy at the same time.

Sign Up Now!
Plug energy drains and learn to recharge energy anywhere anytime.
Learn to use the "more of your brain" that most people do not access.
Learn 5 simple processes that you can use anywhere anytime to access the wisdom of your heart to maneuver through challenges and generate a life of true joy and vitality.
People who are either looking to get the edge in their performance, struggling with all different types of stressors, or have loved ones who are, can benefit from the Fyera! Beginner HeartMath Workshop including those with:
anxiety and depression
health challenges
pain
relationship problems
money issues
eating disorders
career transitions
addictions
obesity
time pressure
performance pressure (for athletes, executives, entertainers, students/testing)
soldiers about to be deployed or with post traumatic stress
Whether you or someone you love has a health concern they want answers for, or is seeking relief from anxiety and depression, this workshop is a place where you can hear the how-to of how to start- with the power of the heart.
To register for a Fyera! Class:
Call (626) 844-7171email: register@fyera.com
Gift certificates, scholarship donations and scholarships also available
Fyera is offering a year long HeartMastery Program.

A great deal only $6/hour of class time. Click here to learn more.