An Interview with Bonnie St. John on the Power of the Heart to Live a Full and Phenomenal Life Beyond the Shadow of Sexual Abuse and Other Childhood Trauma
Join us for a special HeartStart to your week call Monday, January 7th, from 5:00-6:00pm PT.
Free Conference Call
Conference Dial-in Number: (605) 990-0700
Participant Access Code: 992522#

Have you ever seen a shadow loom over your head and ducked to get out of the way of attack, only to discover that nothing was there? Welcome to the world of those traumatized by sexual and other abuse as children. For many, it as if they are always ducking under an illusive shadow. Tonight's HeartStart call will explore how the power of the heart can help.

To understand and have compassion for the lingering impact that abuse, and especially sexual abuse, can have on our physiology, it helps to understand a little bit about how the brain works. In our Beginner HeartMath Webinar we outline in detail how the brain takes shape, both in our historical evolution as well as in fetal development. The heart is actually the first organ to form, and the brain grows up and out of the heart. As it does, it recapitulates the evolutionary cycle, first forming a brain stem that we share with reptilian ancestry. The brain stem serves for binary code approach/avoidance survival. Basically, "I will eat you" (approach), "You will eat me" (avoid), or "We will replicate our species and procreate together," (approach). At the most basic level, our sexuality is tied to this survival imperative in the brain. As mammals came along, with them came emotions as a survival adaptation. In other words, "You ate my friend yesterday. Now I am scared of you, and that fear helps me run away faster so you cannot eat ME tomorrow." The midbrain is where the ability to catalogue past events as emotional memory to protect our survival in the future occurs. This part of the brain is responsible for hindsight, and is the second part of the brain to form. It is this part of the brain that is often responsible for continuing the tyranny and terror of sexual abuse in its victims long after the physical abuse has stopped. The good news is that this second brain is very responsive to changes in the heart rhythm, which anyone in a few simple steps can learn how to regulate on their own.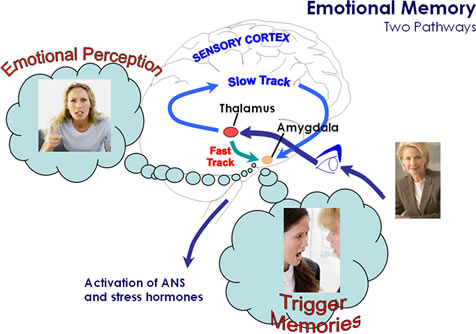 The third brain, the frontal cortex that gives human beings the nice big forehead that dinosaurs with their long brain stems did not have, is the part of the brain which is responsible for refined perception of what is happening right now (as opposed to interpreting what is happening right now through an emotional memory like the midbrain does). This brain has the power to vision and dream, set goals and act on them, innovate and create, and allow the future to create present experience rather than memories of the past (ie foresight). This part of the brain gives us our self determination and authority, and our ability to discriminate our behavior. This part of the brain allows us to experience things fresh and new, with curiosity and interest and joy. Sound good? It's great, unless you are someone who has suffered from anything at all in the past, and your midbrain "hijacks" the higher brain.

It happens all the time. It is the "hot stove" syndrome, where remembering a hot trauma causes you to leap back from all rectangular objects in the future. Even if it is an icebox, the knee jerk protective mechanism of the midbrain sees something remotely similar to a hot stove and does not waste time processing the incoming information through the frontal cortex to assess what it really is. With no time to spare in case it is an immediate survival threat, the midbrain grabs the body's resources, shuts down the thinking brain (!) and ignites the survival imperative of the lower brain to flee or fight, run away or attack back.

Imagine this mechanism being conditioned in a young child whose space is being invaded by a predatory adult who says to them, "If you tell, I'll kill you or someone you love." The injunction not to tell cultivates a power of paralysis that can be debilitating for adult sufferers of childhood sexual abuse. A deep fear is stored in the midbrain associated with sexuality, with speaking one's truth, or even with certain smells, or colors, or textures. Any of these things, innocently or sometimes lovingly appearing in an abuse sufferer's adult future can trip-switch the old survival memory and (seemingly randomly) activate terror or rage. This can be confusing to sufferers of sexual abuse and their loved ones, and create cycles of despair, alienation, and separation.

You do not have to have experienced abuse as a child to suffer from midbrain hijacking. In the example here in the picture, a secretary was caught last week by her boss photocopying flyers for her band. Her boss yelled at her. This week, she is photocopying agendas for a board meeting for her boss, when her boss approaches her to tell her she has won employee of the week. Even so, before she knows her boss' intent, her hands and armpits start to sweat and her body tenses to defend itself and prepare for an unjust reprimand. As Bonnie described to me in a phone session we had, you can be going along in life and suddenly its like you got off the wrong exit of the freeway and ended up in a bad part of town in your brain. More than being victims of one another, we are victims to this old survival programming in the brain and body memory which leaves us like puppets manipulated on strings of emotional and physical reactivity to the shadows of past trauma- until we add the power of the heart. The heart is like a GPS that can get us out of the ghetto of our past traumas and back on the freeway to the fulfillment life right here right now can bring.

Research from the Institute of HeartMath has shown us that midbrain hijacking can be intercepted through the heart. Essentially, when we feel things like fear or anger, jealousy or territoriality, those survival emotions (remember they come from the midbrain brain?) create a chaotic rhythm in the heart which signals to the higher brain that our survival is at stake and that it should shut down and let the midbrain take over. It is really part of our intelligence to shut down the higher centers of the brain in an immediate attack (it sounds funny, though, doesn't it?). Our bodies do this so we do not take too much time to think about which way to go or which angle from which to strike back and end up as lunch meet. However, in day to day dealings, when the trauma of the abuse is remembered, it can cause debilitating paralysis or reactivity for which it can be difficult to identify the cause. The antidote is this: HeartMath researchers discovered that when the heart is beating an ordered rhythm, it communicates to the brain that all is well, opening up the higher perceptual centers to perceive accurately and acutely what is happening right here right now. It also quiets the survival emotions, bringing more peace and serenity, more joy, hope, enthusiasm, true love. Anyone can learn, in a few simple steps, how to create this order within the heart and create their life from their optimal future rather than a looping broken record of their traumatized past. We even have a biofeedback technology that helps people.

Sufferers of sexual abuse often carry so much stigma and shame as part of the emotional picture of their abuse that they think they can never heal because it has somehow scarred them for life. It is true that you can never get rid of the emotional and physical memories of the abuse (nor would you want to- those events and experiences made you who you are today, and if you are like most of my clients gave you greater compassion in your heart for the suffering of others). You can, however, keep yourself from "driving into that part of town" in your brain as often, and you can follow the GPS of your heart to get out quicker when you do end up in that part of town by accident. You can also take the power and allow your vision and dreams for yourself to create your life, rather than your abused past.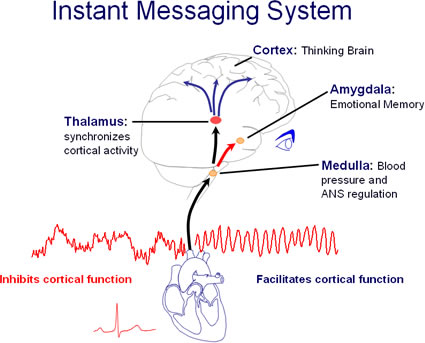 Even though I was not physically abused or sexually abused as a child, I lived in a war zone as a teenager where I was kidnapped at gunpoint, experienced two attempted rapes, lots of verbal sexual assault, and saw firsthand the trauma of children sold into the child sex trade. All before I had my first kiss! When I finally did have a boyfriend, I found that I could not enjoy our sensuality together without being plagued by painful images of children being exploited. This was like a broken record in my brain, a looping hijacking. It really robbed me of love and playfulness, for many years. Until I learned a tool called Attitude Breathing that we teach in the Intermediate HeartMath Webinar. This tool allowed me to take charge of the images in my brain with the power of my heart, and to choose to have love in my life and leverage that love to help children rather than be plagued by their pain (click here to find out more about Fyera's Foundation, and the work we do to end the child sex trade in Nicaragua).

The real test of my own healing came when a client arrived in my office to receive help for the stress of being a child molester. I had spent so much time and energy protecting children, it took every ounce of heart muscle I had to apply the Neutral Tool we teach in the beginner workshop to be available to help this person and not strangle him! (even HeartMath coaches get mad!). What unfolded, thanks to my ability to remain neutral, was one of the most profound experiences I have ever had coaching someone into the heart. First of all, I came to understand that this young man had himself been abused. When he turned to abuse someone else, it surprised him, the same way my own looping patterns surprised me. I came to see that passing the abuse on was his way of trying to digest what had been done to him, and from a more practical physiological point of view, it was his own higher brain shutting down in stress, cutting him off from the intelligence in him that would allow for new behavior choices and disdcernment, causing him unconsciously to relive his abuse as the perpetrator the same way I relived mine inside my own brain. By teaching him to go to his heart, he too was freed from the cycles of abuse that kept him trapped as the perpetrator, the same way the victims of abuse are freed from that tyrrany. It was a deeply moving, compassionate experience for us both.

Bonnie St. John is a woman who, as a young child, suffered from the epidemic of sexual abuse in our culture. However, I did not know that until long after I had worked with Bonnie, because she had created a life so full and vibrant that she shined far beyond the shadows lurking in her past. She is an author, an inspirational speaker, executive coach, TV personality, mother, and seeker of wisdom. Bonnie has suffered through a lot: sexual abuse, divorce, disability, and struggles related to gender and race. Despite these challenges, she has relentlessly sought ways to stay positive and live joyfully no matter what life dishes out. Her message of falling down and getting up—in life, at an Olympic ski race, or in business—has been sought after by CEOs, recognized in the White House, celebrated on a Starbucks Cup and honored with a doctoral degree for her lifetime commitment to motivating people. When you meet Bonnie, you find that she is very down to earth and easy to talk to. She knows what it is like to be down, to struggle financially, to have big emotional challenges, and to grow spiritually in order to overcome them. She also knows what it is like to be on top of the world: Bonnie was the first African-American to win Olympic medals in ski racing, winning a silver and two bronze medals in the 1984 Paralympics in Innsbruck, Austria; she graduated with honors from Harvard University and won a Rhodes Scholarship to Oxford; she was appointed to the White House National Economic Council; she has been featured on The Today Show, Montel Williams, CNN, Good Morning America, as well as People magazine, the New York Times, Essence and many others (how lucky we are to have her on our little HeartStart call!); she has been critically acclaimed as an author; and she is one of the most highly sought after keynote speakers in the country. Now she is hosting her own "Live Your Joy" radio and TV show at www.bonniestjohn.com. Simply meeting Bonnie has been a life transforming experience for many people. "If a one-legged, African-American girl from San Diego with no money and no snow can go to the Olympics as a ski racer..." people think to themselves, "surely I can follow my dream and find the joy in my life." And Bonnie did all of this, as well as creating a fulfilling relationship and a beautiful daughter, in spite of the shadow of her sexual abuse.

On tonight's call, Bonnie and I will share with you how the power of your heart can absolutely help you overcome a traumatic past and live into your optimal and most fulfilling future.

Here's what Bonnie has said about her training with me in the heart:

"The trouble with being in the public eye as a person known for inspiring and empowering others is, where do you go when you need inspiration and advice? Sheva taught me how to access the wisdom of my own heart for that. When you've graduated from personal growth training and want to find the real power in yourself, go to Sheva. She was there through the most difficult relationship challenge of my life, guiding me to a place of self respect where I am now receiving the love I truly deserve. She is without a doubt a leader to leaders, a coach to coaches, and an inspiration to all! I am so grateful to have met you Sheva, and to continue to work with you and to watch you magic unfold in the world!"

-- Bonnie St. John, Olympic Medalist, Author, Speaker Named by NBC as one of the five most inspiring women in the nation
To listen to previous Heart Start calls go to www.fyera.com/heartstart.html

For more information about our four evening HeartMath class series e-mail

[email protected]
The Cost.

Estimated Child Abuse Costs in the US: 94 Billion Dollars per Year, 258 Million Dollars per Day! (U.S. News and World Report)

"The trouble with being in the public eye as a person known for inspiring and empowering others is, where do you go when you need inspiration and advice? Sheva taught me how to access the wisdom of my own heart for that. When you've graduated from personal growth training and want to find the real power in yourself, go to Sheva. She was there through the most difficult relationship challenge of my life, guiding me to a place of self respect where I am now receiving the love I truly deserve. She is without a doubt a leader to leaders, a coach to coaches, and an inspiration to all! I am so grateful to have met you Sheva, and to continue to work with you and to watch you magic unfold in the world!"

-- Bonnie St. John, Olympic Medalist, Author, Speaker Named by NBC as one of the five most inspiring women in the nation

Recommended Reading

January HeartMath Workshop Dates

Beginner Webinar - 4 Tuesdays Starting Jan 8th

Intermediate Webinar - 4 Wednesdays Starting Jan 9th

Advanced Webinar - 4 Thursdays Starting Jan 10th

Where the Rubber Meets the Road - 4 Fridays Starting Jan 11th

All Day Beginner Workshop - Saturday Jan 19th